Happy International Beer Day!
We're going to make sure to end the working week and start the weekend off with a nice cold beer!
However, did you know that air compressors are a vital piece of equipment when it comes to making beer! So whether you prefer an ale, lager or stout, an air compressor was a key component in the brewing process, from fermentation and aeration to carbonating and bottling / canning.
When it comes to beer the cleaner the air the better! Throughout the process, the key is to avoid any contamination ruining the brewed beer. That's why oil-free air is the best option. This will ensure that no contaminates makes its way into the brew and ruin the perfectly cultivated flavour. As Atlas Copco distributors we can provide breweries with a variety solutions to suit the brewer's needs.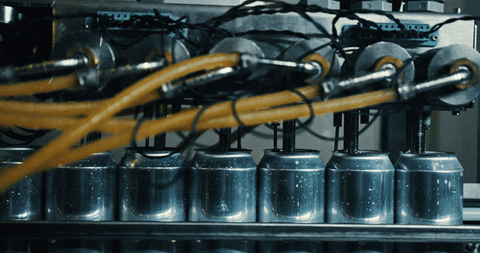 Not only are air compressors important to the brewing process but so is Nitrogen.
Nitrogen is used in the brewing process to clean tanks in between uses, avoiding oxidisation from previous batches and prevent polluting the next batch. It is also used in place of oxygen and carbon dioxide to push beer from one tank to another. It a key component used to pressurising kegs before shipping and storage, meaning nitrogen is one of the main reason the beer gets to you in such perfect drinking condition!
Some breweries buy their nitrogen in bulk instead of generating it right in the brewery. This leaves them at the mercy of the supplier as to when they'll receive it.
There are many benefits generating your own Nitrogen.
Less time lost – No need to wait for the supplier to determine a delivery date. Available when it is needed.
No gas wasted – Most breweries don't know the exact amount of compressed gas need and storing nitrogen tanks can be dangerous, pressure needs to be released from tanks to avoid exploding. This isn't an issue with nitrogen generators, only use what is needed and no storing tanks required.
Lower costs – The cost of generating nitrogen is cheaper per tank than buying it in, saving between 40-75%.
The Nitrogen generators are easy to install and run off of the already installed air compressor.
If your business could benefit from a site visit by Precision Pneumatics, phone us! We'll schedule one of our Compressed Air Experts to visit your site, learn your requirements, and provide a no-obligation Compressed Air Health Check.
We offer a wide range of solutions whether it's Compressor Sales and Service, Pipework Installations, Air Quality & Air-Audit diagnostics, Pneumatics Solutions, we're your one-stop-shop!
Phone us today at 0151 546 6689, or send us an email at sales@precisionpneumatics.co.uk.
Back to Recent News